Main Content
Cape May Court House – The Fall 2023 4-H Paper Clover Campaign in partnership with Tractor Supply Company (TSC) starts October 4 and runs through Sunday, October 15. Shoppers and other supporters of the Cape May County 4-H Youth Program are invited to donate at the checkout by purchasing paper clovers for $1 or more while in the TSC store located at 3810 Route 9 South in Rio Grande. Donations may also be made online on the TSC website at https://www.tractorsupply.com/tsc/cms/4h.
This event marks the 13th year of collaboration between Tractor Supply and National 4-H Council on the in-store and online fundraiser that benefits national, state, and local 4‑H programs. Since 2010, TSC has helped raise over $14 million through the Paper Clover fundraisers for 4-H programs throughout the country impacting over 69,000 youth by offering hands-on experiences in leadership and camping.
In Cape May County, the funds raised are used to provide 4-H youth scholarships to state and national 4-H leadership conferences and state camping programs. "Our 4-H'ers have many opportunities in 4-H to build the leadership skills and self-confidence they need to succeed in their lives and careers. More youth can participate in these programs now because of the partnership that 4-H has with Tractor Supply Company," says Linda Horner, 4-H Program Coordinator for Cape May County.
John Knecht, manager at TSC Rio Grande, said, "A number of our customers are involved or know someone who is involved in the 4-H Youth Development Program in Cape May County, and we are proud to be part of this initiative that benefits the children of our community."
For more information about the Cape MayCounty 4-H Youth Development Program, please call 609-465-5115, ext. 3605, or visit our website capemay.njaes.rutgers.edu.
The 4-H Youth Development Program is part of Rutgers, New Jersey Agricultural Experiment Station-Cooperative Extension. 4-H offers educational programs to all youth, grades K-13 (one year out of high school), on an age-appropriate basis, without regard to race, religion, color, national origin, gender, sexual orientation, or disability.
Visit your local Tractor Supply at 3810 Route 9 South, Rio Grande, NJ October 4 through 15 and purchase a paper clover to help Cape May County 4-H members participate in 4-H leadership and camp programs.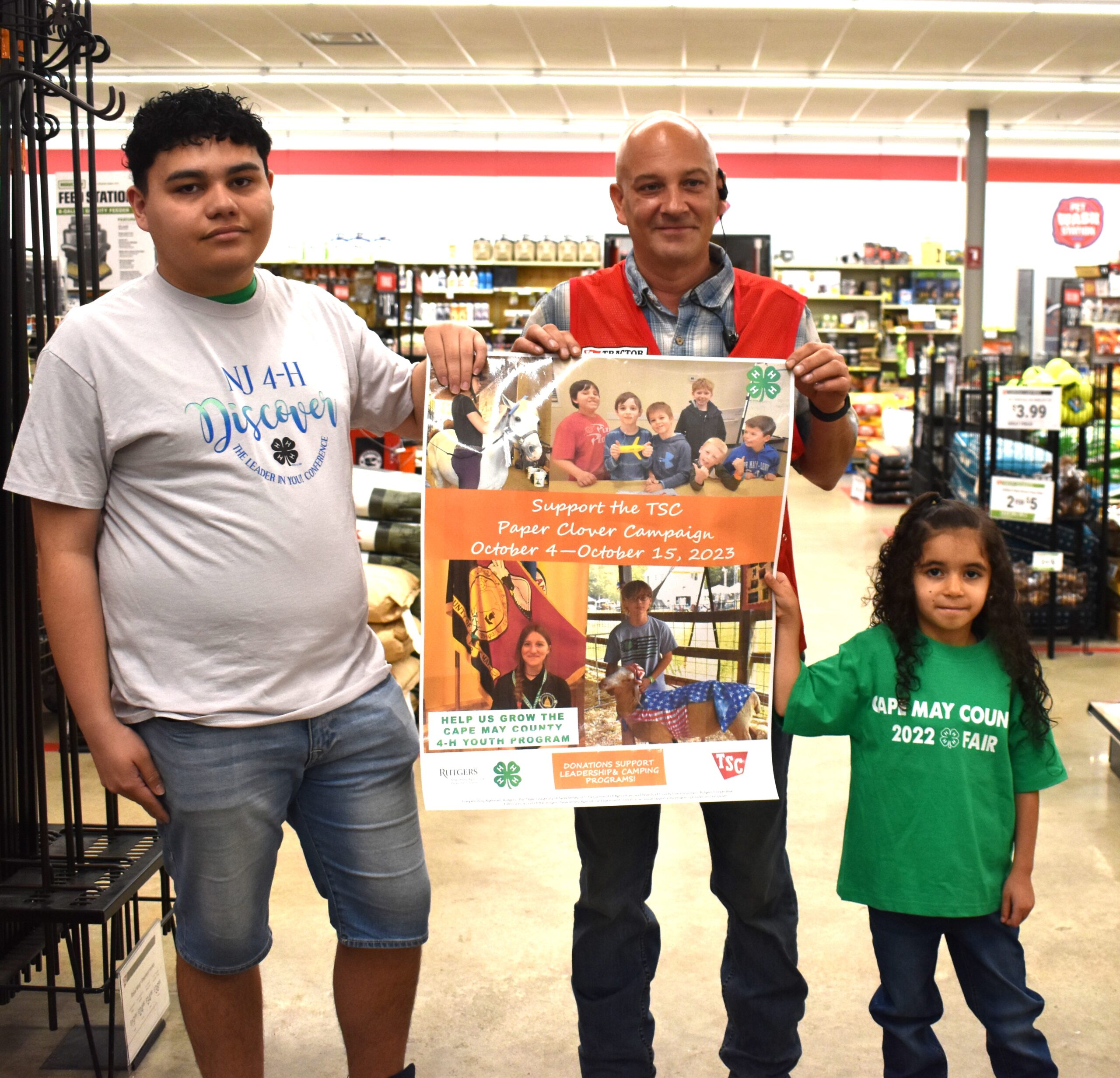 Yadiel Torres, Teen Ambassadors 4-H Club and the Emerald Theater Company 4-H Club, John Knecht, Manager TSC Rio Grande Store, and Mila Rodriquez, Cloverbud member of the Tightlines 4-H Fishing Club Kick off the Fall Paper Clover Campaign at TSC in Rio Grande, NJ.