Main Content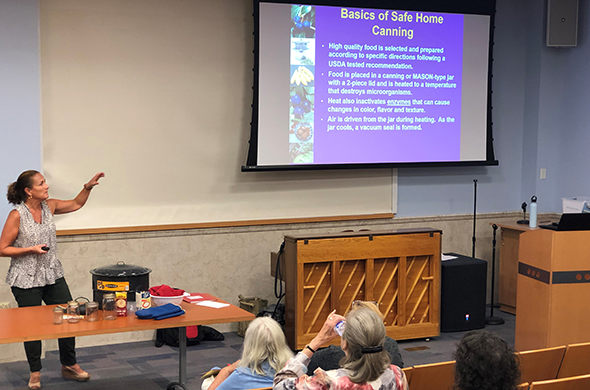 Mission
Family and Community Health Sciences promotes health and wellness through education, research and collaboration with outreach in food, nutrition, and healthy lifestyles.
Goal
Promote Healthy Lifestyles, wellness and chronic disease prevention, and wellness in communities by creating a culture of health.
Initiatives
Our goals and mission are accomplished through community and school outreach programs, wellness workshops, and specialized programing. In addition to our website and social media outlets, publications such as newsletters, fact sheets, and brochures aim to inform and educate our stakeholders. Our programs and publications are available at low or no cost. Some publications are available in Spanish.
Classes are held at Rutgers Cooperative Extension in Cape May Court House as well as various locations around Cape May County.
Publications
CMC Newsletters
NJAES Publications
Sign-Up
To get more information, sign up for our programs or to receive our free newsletters, call 609-465-5115, ext. 3609.
Focus
FCHS outreach focuses on:
Nutrition and Physical Activity
Family
Health Promotion and Chronic Disease Prevention
Worksite Wellness
School Wellness
Early Care Education
Food Safety
Food Security
Programs
Grandparents Raising Grandchildren
The need for kinship care continues in Cape May County and so does the need for services to keep caregivers healthy and well. The Grandparents Raising Grandchildren program continues to welcome new families and expand outreach to encourage a healthy family dynamic for grandparents throughout the County. Call 609-465-5115, ext. 3609 for more information or to be added to our mailing list.
Wellness Workshops
Workshops are offered to the public on a variety of topics throughout the year to encourage better nutrition and fitness programs for families. Programs are available in person or virtually for agencies interested in hosting a presentation or the public can attend a presentation hosted by Rutgers Cooperative Extension.
Virtual Lunch & Learn Series
The virtual Lunch & Learn Series is offered the 4th Thursday of the month to provide viewers with health and wellness information during their lunch hour. Topics vary and allow participants a chance to grab a healthy half hour tidbit of wellness to carry throughout the day. Programs are held each month except for the months of June, November, and December.
Wellness Wednesday Webinars
Wellness Wednesday Webinars with Family and Community Health Sciences focus on a variety of topics related to food, nutrition, and healthy lifestyles. This series will walk you through the easy steps that you can take to add positive health behaviors to your day. Webinars take place Wednesdays at 12:30 p.m. A list of webinars can be found on the NJAES website.
Junior Chefs
The Junior Chefs program, first developed in 2013, incorporates nutrition education with hands-on food preparation lessons to encourage a lifetime of healthy eating habits. At the end of the program, participants are able to prepare simple and healthy foods for themselves and their family.
School Wellness Outreach
FCHS partners with Cape May County schools to help implement their wellness plans. This includes improving school lunches, initiating youth fitness programs, providing current information on family health, nutrition and wellness.
See FCHS Health, Educational, and Recipes videos
Learn More About FCHS Programs in Cape May County
Call our office at:
609-465-5115, ext. 3603
Chris Zellers, Family and Community Health Science Educator/Assistant Professor
Email:
zellers@njaes.rutgers.edu
Rutgers Cooperative Extension of Cape May County
355 Court House-South Dennis Road
CMCH, NJ 08210